Robot miniatures are a bit difficult to find (and I'm posting this here in hopes that one day Brigade may provide some). The next few posts will be a tour of what is presently available.
Let's start with the best one I've found and work our way through the other choices that have led me to this conclusion.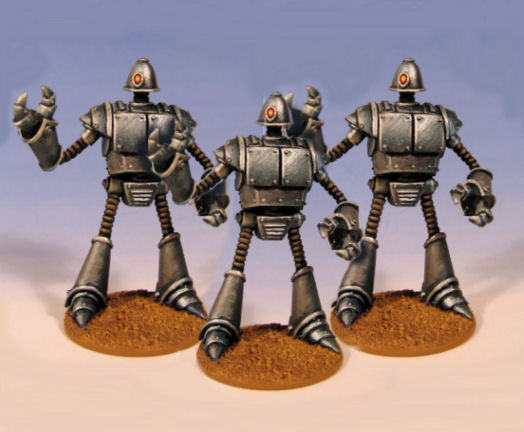 Hydra Miniatures
For some time, Hydra has been posting notices on "the usual suspect" boards about their upcoming and now open online store. They presently offer three types of robots: a small tool & hover sort, a tallish soldier, and the Warbots seen above.
Parroom Station
Prior to Hydra's debut of the
Robot Legion
one of the best options was this Clockwork Soldier. I have one of them to represent a character in a
Castle Falkenstein
campaign.
Four Color Figures, Superfigs
Although I do not own one, I have considered the Host Omega Shockbot. I'd like to see one in-person, as it were, before I make a decision and provide any sort of rating.
Wargames Supply Dump
There are two varieties of the WSD Khang Robot and I do have to say they are the most pulp of all the automata available. The only problem with them (from the perspective of my collecting efforts) is that they're a bit comical. Were I aiming deliberately as Buck Rodgers/Flash Gordon, these would certainly be perfect. I've heard that
Rattrap
has at least one robot in development but the image I've seen so far tells me that it falls into this same category.
Killer B Games
Okay, the truth of it is... I'm a bit of a hover snob when it concerns anything but Nefs and Digs. This robot is flawless apart from the lack of legs. Sorry, Mecha-Man.
And to wrap up this report, I do not think it is telling tales out of school to inform you that
Pulp Figures
(Bob Murch) has been experimenting with designs. I made a few suggestions via email but I have not idea about what he's working on or when we might see it. He did comment that he's shying away from the man-in-a-suit sort, but that could be nearly anything.
Until I find a few more images and options, that is all...